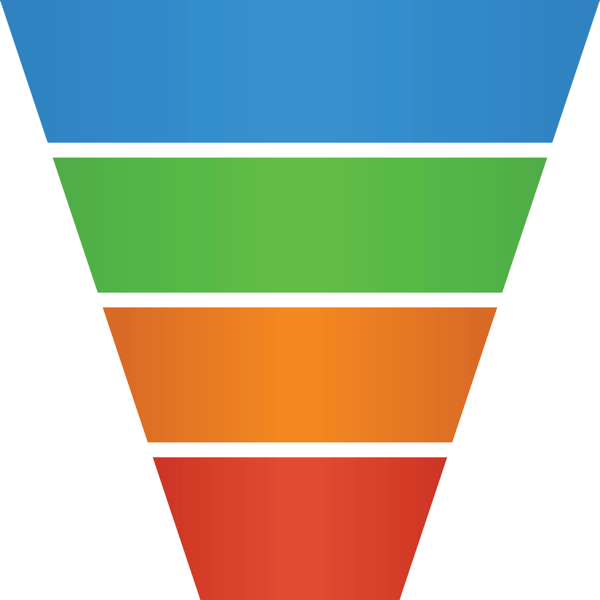 Until you start exploring the world of digital marketing and sales, you may have never heard the term "sales funnel."  However, the concept relates to all types of action based persuasion, not just sales occurring in the digital realm.  In this post, we'll go over the four main components of the sales funnel and how they relate to the sales journey.
1. Awareness
The awareness stage is when a prospective customer becomes aware that you offer a product, solution or service that will benefit their needs.  This can occur through advertising, word of mouth, research performed by the prospect or any of several other pathways.  Upon awareness the prospect will begin to think about how they can find the appropriate solution to their problem.
2. Interest
Once a prospect becomes interested in your services they go through an evaluation process that has them reaching out for more information, comparing the offerings from a variety of competitors and becoming more educated about the factors surrounding the offering.  Providing your prospect with a strong argument for the effectiveness of your product is imperative at this level.  With the potential customer still weighing their choices you'll need to put your best foot forward.
3. Decision
Getting a prospect to make a decision comes down to supplying them with all the information they're looking for, answering the questions preventing them from taking action, allaying any fears they have and convincing them the action they're about to take will result in satisfaction.  This is the level that you need to demonstrate your authority in your field confirming that you're the best choice available.  You can support this authority by providing social proof in the form of customer reviews, endorsements or compelling statistics.
4. Action
The last component of the sales funnel is action.  This is where the potential prospect completes the process by becoming an active customer.  As an added stage to the action component, it's possible to convert a one time customer into a repeat customer.  By providing exactly what the customer is looking for, and more, you can keep the customer coming back and possibly creating more awareness that attracts new prospects into your sales funnel.
The HeyLead Marketing Team
If you would like to learn more about how to guide potential customers through the sales process, get in touch with the San Francisco based online marketing team, HeyLead, for more information.
Back to blog