Align with industry experts and provide a well branded exposure and build an SEO presence for core keywords in a niche technology sector.
Improve online visibility, rank for core industry keywords and provide industry expertise to prospects and current customers.
Blogs created from April 2016 – December 2016 that are keyword focused / about 6 blogs per month.
Extensive keyword research was performed before executing on this content strategy. Search volume, competitiveness, relevancy and other factors were used to prepare the right set of keywords.
The knowledge base was an integral component to providing current customers with easy access to support related materials.
In creating the knowledge base, we were able to not only reduce support time required to service customers, but also provide content that is important for the search engine visibility and branding of the site.
Video is an important aspect to SEO and branding. It further helped the client with branding, exposure and awareness in the market.

Optimize website for responsiveness
One of search engines' ranking signals is website responsiveness and usability. Below is the result before and after optimization of website.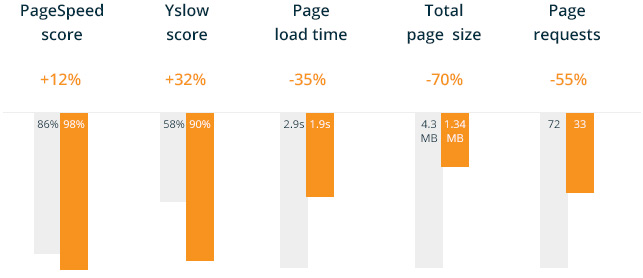 1 Campaign / 47 Ad groups / 47 Ads
The purpose of the Adwords campaign was to uncover hidden keywords for SEO that we can target and rank for as well as buy low cost traffic and boost traffic to site.
Creating infographics is a great way to summarize complex content in a visual way. Because of its attention grabbing appeal, users can easily share the content with their friends and further increases backlinks generated for the website. 
Articles created that are also keyword focused.

98 tweets created on Twitter since creation of Twitter page 4 Facebook posts on average created per month

Created online business profiles on online directories such as Yelp to further establish a digital footprint.
300+ business profiles created on online directories and third party review sites.
new pages indexed
by google

774 more clicks, ad appeared for 36,000 times, CTR 2.13%, Spent only $381 and Uncovered 577 new SEO keywords
fan followers combined
on Facebook and Twitter

Increase of 179.87% organic sessions (3,119 more)
4,853 (April 1, 2016 – Nov 30, 2016)
1,734 (April 1, 2015 – Nov 30, 2016)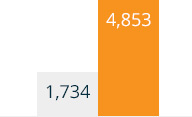 RANKINGS
KEYWORD
MAY
AUGUST
NOVEMBER
good pay per call crm
-
1
1
pay per call crm system
-
1
1
pay per call crm software
-
1
1
what is dynamic call distribution?
-
1
1
pay per call crm
-
2
1
lead-to-call automation
-
2
2
is pay per call worth it
-
5
2
pay per call software organic
17
3
3
pay-per-call platform organic
4
5
3
pay per call explained
-
3
3
introduction to call tracking
-
4
3
is pay per call marketing worth it
-
7
3
pay-per-call systems
-
6
3
qualify calls
-
9
4
how to optimize your pay-per-call marketing
-
4
4
pay per call agency
-
19
7
optimize pay per call
-
9
7
pay-per-call marketplace organic
15
6
8
call marketplace organic
11
11
10
tractable phone numbers
-
-
Back to blog